A few weeks ago I wrote about the glorious return of breakfast to my life. Here's another love I had let fall by the wayside: cabbage. Yep. Cabbage.
If you've met me, we've probably talked about Poland. I can't help it. Sorry. Here I go again: One of the great things about living in Poland were the farmers' markets every day; you could get everything there, from spinach to deli meats to hosiery. And cabbage, obviously, and so cheaply. So we ate a lot of cabbage, and it was great: borscht (beet soup with cabbage), bigos (hunters' stew with meat and cabbage), pierogi (dumplings stuffed with, among other things, meat and cabbage)–you get the picture.
When I got back from Poland at the end of 2008, I stopped eating so much cabbage for no good reason, but now I'm back, and here's the recipe that got me pumped up about cabbage again:
Sweet and Sour Cabbage
1 red cabbage
3 Tbs. butter
3 Tbs. sugar
3/4 C. vinegar
3/4 C. water
salt and pepper
2 tart apples, chopped
1/2 C. jelly*
*Apparently red currant jelly is the best–it's a danish recipe–but I used strawberry because I had it on hand, and it was great, too.
Remove and discard outer leaves of cabbage. Chop cabbage very finely. In a dutch oven or heavy kettle, melt the butter and add the sugar. Add the cabbage and cook 3 minutes, stirring constantly. Add the vinegar and water, and salt and pepper (I used about 1 Tbs. of each, I think, but it's up to you).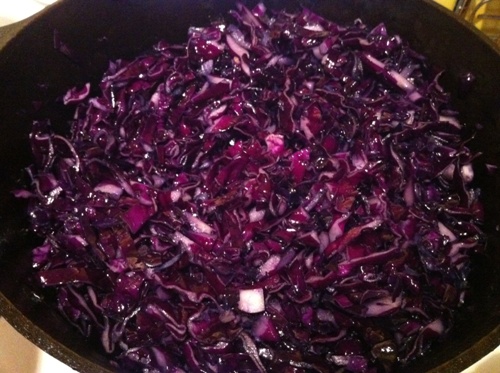 Cover and simmer for 2-3 hours, or until the cabbage is very tender. Stir occasionally and add a little hot water as needed to prevent scorching. When cabbage is almost tender, add apples and jelly. The dish should be very sweet-sour, so add more sugar or vinegar as needed, a little at a time.
Simmer covered for another 30 minutes, stirring occasionally. Serve hot.
Apparently it goes great with duck (what doesn't?!) and works well reheated the next day. I brought it to a pot luck and there was no chance of saving any for the day after.