Last fall, we made a ton of pumpkin puree, and after two or three pies we started wondering what we were going to do with it all. Enter: pumpkin garlic knots (recipe here). Easy, delicious, perfect thing to bring to a potluck (and just about everywhere I went last fall).
Fast forward to last weekend, and a housewarming potluck our friends were throwing. Pumpkin is obviously not in season, but I wanted something easy, savory, snackable… you get where I'm going with this. The question is: how have I never made garlic knots before?
Garlic knots are super easy. The basis for the (pumpkin-free version of the) dough is just regular pizza dough, which we already make just about weekly. Beyond that, all you need is garlic, butter, herbs and parmesan, and a little bit of time. Here's how we did it for the potluck, and then again yesterday because we just couldn't help ourselves.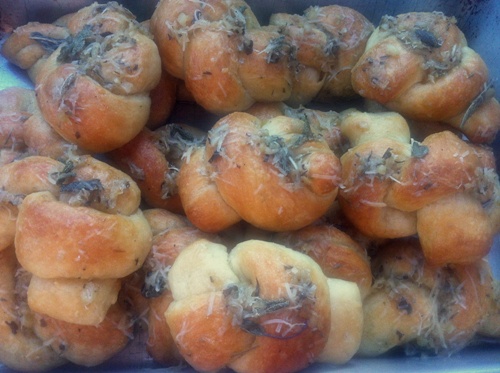 Garlic Knots
Start with a pizza dough. We always use Jim Lehay's no-knead pizza dough (recipe here, on one of the greatest cooking blogs I know of, Lottie+Doof). Make the dough and let it rise according to the recipe (the no-knead dough only takes two hours).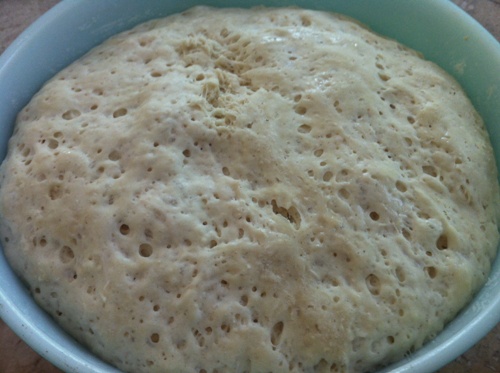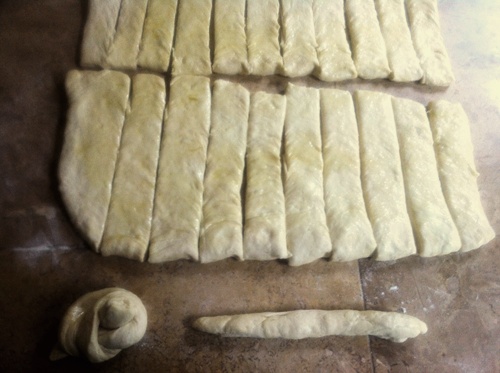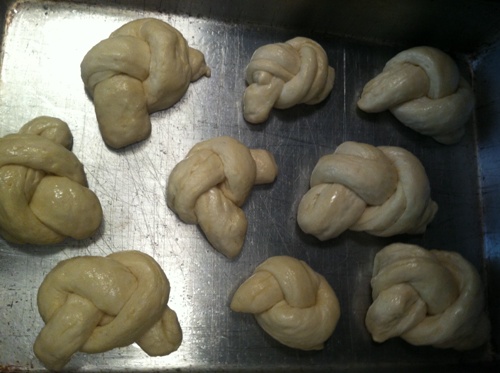 Once the dough has risen, place it on a lightly floured surface and roll it out into a square about 1/2″ thick. With our pizza dough, that makes about a 16″x16″ square. Brush the dough lightly with olive oil, and cut into slices about one inch wide and six-to-eight inches long. Take each strip and roll it gently into a snake–try to avoid making it longer and thinner; you're just trying to make it rounder. Gently tie the strip into an overhand knot and place on a lightly greased baking sheet. Repeat with each strip. Lightly brush the knots again with olive oil. Cover the baking sheet with a dish towel and let rise again, about 30 minutes.
Preheat the oven to 375F. In a saucepan, melt 1/2 C. butter and add about 3 Tbs. finely chopped garlic, salt and pepper, and dried sage, oregano or whatever savory herb you like. Cook over medium heat for several minutes, until the garlic is soft, and then let simmer over very low heat. Stir in 1/4 C. grated parmesan cheese.
Bake the knots about 15-20 minutes until golden brown, then remove and toss with the warm garlic butter mixture. Serve warm.